The Autumn/Winter collection has Landed, it's time to embrace the new season. See what's new for men and women in our latest collection.
Login
Log in if you have an account
Dont have an account? Register
Kris Berry for We Are Labels & mbyM
23 Aug 2017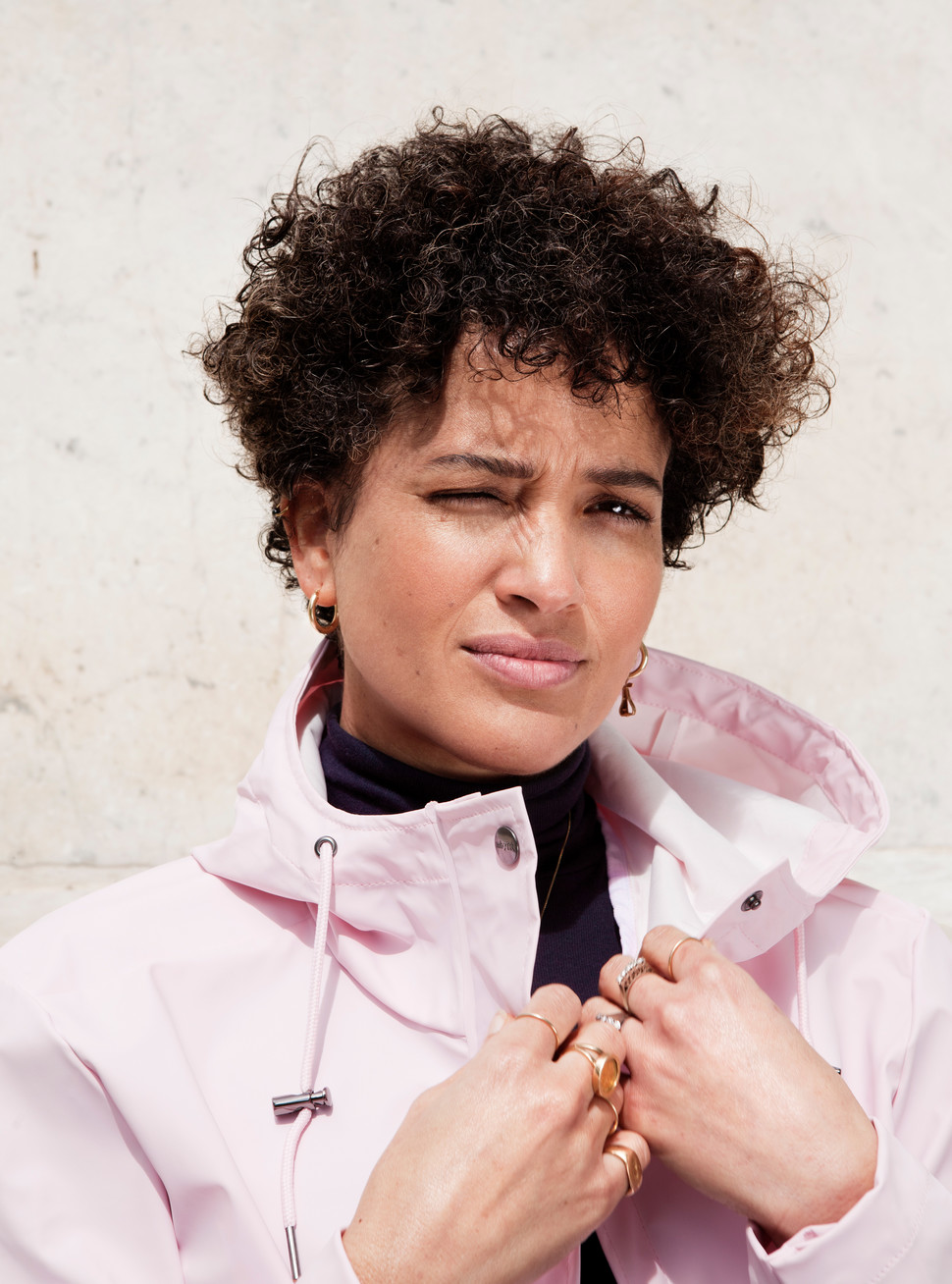 Samen met mbyM hebben we een limited edition roze regenjas ontworpen. Een special made item, to celebrate the power of women all around. Speciaal voor deze collab spraken wij de getalenteerde zangeres Kris Berry en vroegen we haar naar haar eigen empowering moments, lopende projecten, toekomstplannen & meer.
Kris! Zou jij ons eens mee kunnen nemen in jouw talentvolle gedachtegang als zangeres. Heb je bepaalde plekken die jou extra inspireren tijdens het schrijven? Hoe gaat het schrijfproces bij jou in werking?
Hmm, plekken.. even denken, laatst voelde ik me een beetje opgesloten in de stad en leende ik de auto van een vriend, reed ik als een crimineel naar het strand en heb na een duikje in de zee heel fijn liggen inspireren onder de zon, met analoge schriftje en opnames van het lied waarmee ik die middag nog voor in de studio zat. De plek werkte helend en rustgevend. De laatste tijd schrijf ik wat ik voel, waar ik ook ben.
Met welke projecten ben je nu allemaal bezig?
Ah, zoveel! Mijn plaat Berry Street kwam dit jaar uit, daar ben ik heel trots op. Dit najaar hopen we leuke dingen te doen in de vorm van optredens en een concrete clubtour vanaf december. Ook kijk ik uit naar Indonesie! Inmiddels ga ik met de fonkel nieuwe band daar drie concerten doen en wat ons betreft ook nieuwe muziek maken tussen de palmbomen.
Wat zijn volgens jou key albums die iedereen een keer zou moeten luisteren?
- Shuggy Otis: Inspiration Information (bescheiden soul met moderne swag uit 1974)
- Fleetwood Mac: Rumors (classic in mooie liedjes)
- Rihanna: ANTI (haar beste plaat)
- Dory Previn: The art of Dory Previn (Art, poetry, controverse for that time)
- Frank Ocean - Channel Orange (brilliance in melody and lyric/ theme)
- Wyclef Jean: The Carnival (because, 1997)
- India Arie: Acoustic Soul (Because, Brown Skin, dat nummer ;-).....)
- Rhye: Open (heel bewuste songwriting, epic sound, tijdloos)
-Pharaoh Monch: PTSD (Broken again heeft me heel gemaakt)
- Quadron: Avalanche (Genius)
- Emily King:The Switch (one of my main inspirations)
- Tracy Chapman: Fast car (kid memories)
- Lauryn Hill: MTV unplugged (als je't hoort weet je waarom)
- Notorious BIG : Ready to Die (want collectors item)
Wie vind jij sterke, inspirerende vrouwen? 
Leandra Medine, Eve Ensler, Nina Simone, Patsy Cline, Amy Winehouse, Patti Smith, Rupi Kaur.
Wat versta jij onder empowerment?
Empowerment is wat mij betreft in je innerlijke kracht staan en dat op een integere manier uitstralen.. De momenten waarin je realiseert dat angst de eerste stap naar het resultaat beek te zijn.
Heb je een bepaalde les voor je 16 jarige zelf als je die nu zou spreken? 
Geniet van je vrijheid en je jeugd, zonder beslommeringen en verantwoordelijkheden. Leef bewust, en lach altijd!
Met wie zou je graag nog een keer willen werken?
Het Amsterdam Sinfonietta (22koppig kamer orkest).
Als je nu een plek mocht kiezen in de wereld waar je vanavond op mocht treden, waar zou je dan staan?
Shepherds Bush London, Royal Albert Hall in London, Sydney Opera House, Rockwood Music Hall in New York.
Hoe ben jij net voordat je het podium op gaat? Heb je een bepaalde vaste traditie of mantra die je gebruikt? 
Soms ben ik echt zenuwachtig, ik zoek dan rust, en draag mijn gelukskristallen bij me. Laatst, in de Stadsschouwburg, had ik ze zelfs stiekem op het podium.
Vond je het leuk toen we je vroegen voor dit limited edition project? Wat vind je van de jas?  
JAAAAA ;-) super leuk! Ik heb de jas al 4 x gedragen, hij is zacht, mooi, stoer, en behalve regen proof ook prima als wind jack couture.
Waar kunnen we meer van jou zien?  
Mijn muziek en album BERRY STREET staat op alle online platforms, van bandcamp tot Spotify en iTunes www.krisberrynow.com komt binnenkort live, nu is het een tijdelijke site, en verder mijn Insta @krisberry facebook Kris Berry en stay tuned voor mijn clubtour aankondiging!
De regenjas is momenteel uitverkocht